Under the artistic direction of Priscilla Guy and Sébastien Provencher, FURIES is a contemporary dance festival on a human scale based in Marsoui in Gaspésie, which highlights striking choreographic forms in the everyday landscape. Download the detailed schedule (FR) >>>
Marsoui, April 20, 2021 – The FURIES artistic direction duo, Sébastien Provencher and Priscilla Guy, are delighted to finally be able to unveil the program for its 2nd edition which will take place from July 29 to August 1! Initially scheduled for 2020 and postponed to July 2021 due to the pandemic, this second edition seals the arrival of Sébastien Provencher as co-artistic director of the festival. Read the press release >>>
PROGRAMMING AND TICKETS (reservations required)
7 p.m. to 10 p.m. — Opening night at Salon58 "Mula" + vocals and drums + screendance
BOOK NOW* >>>
* If the ticket office displays SOLD OUT, subscribe to our newsletter to be informed if seats become available in the coming weeks.

Mula – Ivanie Aubin-Malo
+
Vocals and drums – Darlene Gijuminag
+
Screendance under the stars
---
Mula translates into the movement of going deep. A choreographic process that was renewed in 2018, Mula is inspired by the sense memory of a childhood dream. The flesh remains imbued with that slow and robust voice commonly heard in the distant past. Mula is a cyclical journey and a conversation between several entities that occupy different times, where one voice dominates and affirms: "You will always stay here; you will always exist here." (Photo: Magdalena Marszalek)
Choreographer: Ivanie Aubin-Malo
Performer: Ivanie Aubin-Malo
Sound design: Guillaume Roberts-Cambron in collaboration with Soleil Launière
Sound engineering: Guillaume Roberts-Cambron
Lighting design: Audrey-Anne Bouchard
Wolastoqey and Quebec choreographer, performer and curator, Ivanie Aubin-Malo graduated from the Montreal School of Contemporary Dance (EDCM) in 2014. She then received the mentorship of Curtis Joe Miller who taught her the dance Fancy Shawl. As a performer, she has collaborated with, amongst others, the artist Alutiiq Tanya Lukin Linklater since 2016. For her choreographies, sound is her first inspiration, which sets in motion the density, direction and design, as perceived through hearing the experience. Based in Tio'Tia:ke (Montreal), Ivanie wishes to create links between the indigenous community and that of contemporary dance to allow a better coexistence on the lands where people come together.
---
Gasgapegiag Mi'kmaq artist Darlene Gijuminag offers a brief foray into the songs and music of her community. (Photo: Peter Graham)
Professional musician and singer based in Gesgapegiag, Darlene has also set up many collective projects in the region. It is with humor, passion and generosity that she offers us different ways to meet one another, through her rich cultural background and her teaching experience.
---
A selection of choreographic short films under the stars, near the fire! (Photo: René Faulkner | FURIES 2019)
8:00 a.m. to noon — «Habiter sa mémoire» at Marsoui beach
For 4 hours, held in a wall-less, 12' x 12' transparent box, Caroline Laurin-Beaucage creates a dance that takes her back to the heart of her career as a performer and tries to re-awaken all the memories of her body. In this circumscribed, transparent and open space, she is simultaneously creating and performing, each moment becoming the show. The performance / creation Habiter sa mémoire is intended as a pilgrimage through different moments in order to create a unique encounter between the public and the artist; where the spectators are invited to encircle the box and bear witness to a dance in constant evolution under the effects of its environment and duration. (Photo: Robert Dubé)
Conception, choreography and performance : Caroline Laurin-Beaucage
Conception and technology integration : Thomas Payette + HUB Studio
Scenography : Odile Gamache
Sound design and Recording : Larsen Lupin
Artistic Advisor:  Ginelle Chagnon
On-Site accompaniment and coordination : Ginelle Chagnon + Ingrid Vallus
Costumes : Caroline Laurin-Beaucage
Technical director : Hugues Kir
Coproduction : Hector-Charland Theatre
Residences : Centre d'art Diane-Dufresne + Circuit-Est centre chorégraphique + Maison pour la danse à Québec
---
Choreographer, performer and teacher for 20 years, Caroline Laurin-Beaucage has worked with Ginette Laurin (O Vertigo), Jacques Poulin-Denis, Paul-André Fortier and Jean-Pierre Perreault. In 2016, she created Habiter sa mémoire, an outdoor performance presented in about twenty places around the world. From this major project emerged in 2019 the scenic creation Intérieurs ("Prix du CALQ" for the best choreographic work in Quebec) and the exhibition Marquer le temps, presented by Danse Danse and Place des Arts. Caroline Laurin-Beaucage graduated from the School of the Toronto Dance Theatre. She has been teaching at Montreal's Concordia University since 2005, and as a guest teacher at the Dance Department of UQAM in 2020-2021. She co-founded the structure for choreographers Lorganisme and was its Artistic and General Director until 2019. (Photo : Caroline Désilets)
8:00 a.m. to noon — «Dans le ventre de la baleine» at Marsoui beach
A small, individual, sensoriel listening station will offer a 5-minute experience in the heart of a beluga nursery, with sound and tactile immersion devices.
Since 2012, Maryse Goudreau has endeavored to deploy her Beluga Archives in multiple forms. At the crossroads of fiction, documentary, ethology and politics, her work questions the points of contact between the whale and the human without falling into a cautionary tale. To this, her project responds to the need of placing oneself in a situation of listening for what belugas have to transmit to us. (Photo: Maryse Goudreau)
Created by Maryse Goudreau
Sound editing and engineering: Stéphane Claude
Produced following a research and creation residency at the Churchill Northern Studies Center thanks to the agreement between the Conseil des arts et des lettres du Québec and the Manitoba Arts Council. Maryse Goudreau also thanks the Oboro production assistance program and the Canada Council for the Arts.
---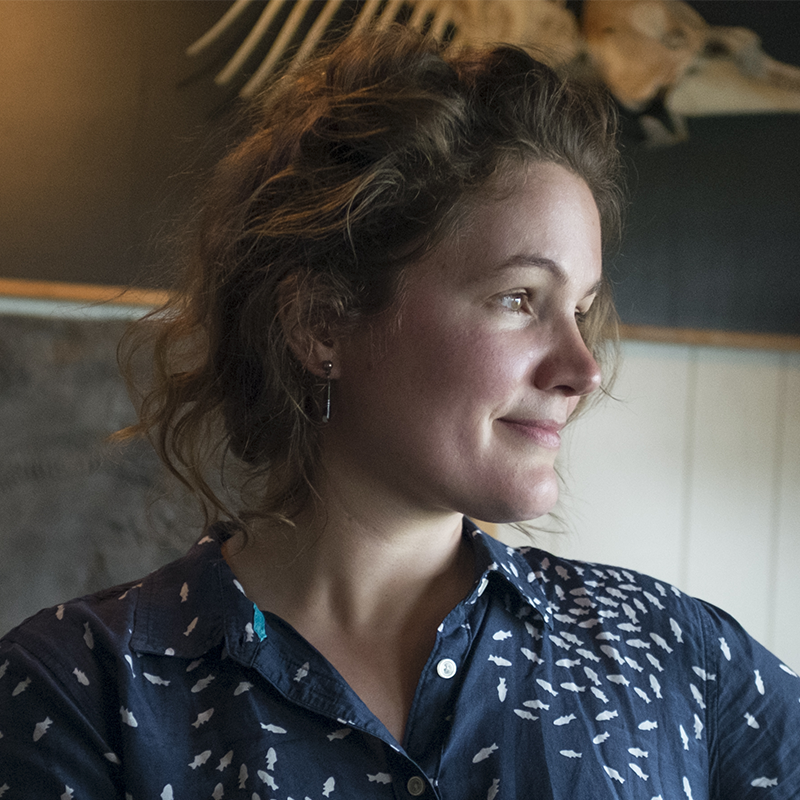 Maryse Goudreau is a multidisciplinary artist living in Escuminac, in the Gaspé Peninsula. She creates works where images, documents, and gestures of artistic and participatory care intersect. Her creation Hybrid spans photography but also interactive videographic and photographic essays, immersive devices, writing, action art and sound art. She has invested in the field of art that has a social impact with several participatory projects, such as Manifestation pour la mémoire des quais and Festival du tank d´Escuminac – first and last edition. She won the Lynne-Cohen Prize (2017), awarded in partnership with the Musée national des beaux-arts du Québec. Her works are part of several collections, including that of the Montreal Museum of Fine Arts. (Photo: Mathieu Bouchard-Malo)
11 a.m. to noon — Qi Gong inspired session
BOOK NOW >>>
The jack-of-all-trades that is Marlene Sohier, offers you a moment of benevolence and a return to the body, through simple, slow movements and breath work inspired by Qi Gong techniques. (Photo: René Faulkner)
Consult the map of festival sites and surrounding areas
Download detailed schedule (FR)
Partners
FURIES – festival de danse contemporaine remercie également : La Chapelle du Cap, l'École Notre-Dame-des-Neiges de Marsoui, Tangente, Atelier Turquoise, Resto Chez Tantine, Vignoble Coteau Rougemont, Microbrasserie Le Malbord, Microbrasserie Auval, Madame Méganne Perry Mélançon – députée de Gaspé, Auberge la Seigneurie des Monts, CCOV, DLD, Poème en août, Revue Esse, Rubberband.